There is a number of things you need to know if you are visiting Rome for the first time – a series of tips and tricks that will make your time in the beautiful Italian capital a whole lot better, and that even before going will actually help you with the trip planning.
You see, Rome is huge; it is crowded with tourists pretty much year round, and it has an incredible array of things to see and do – so many, that unless you plan your visit carefully you may end up seeing a fraction of them.
I know you will feel compelled to stuff your itinerary when visiting Rome, but trust me – there is no need. The key to make the most of the Eternal City is to select what you want to see carefully; plan your visits and be smart about your timings so that you can avoid the crowds a bit; and allow yourself to be more spontaneous for the rest.
If you are need some tips to plan your trip to Rome, you are in the right place. I know the city really well and I can share a bunch of useful hacks.
Continue reading for the best tips for visiting Rome.
10 Useful Tips For Visiting Rome
Visit Rome off season
They say any time is a good time to visit Rome, and while the city is beautiful year round and each season has its perks, I am not sure visiting Rome in the peak summer months, when temperatures soar to 38° C (around 100° F) and the city is crowded with tourists and devoid of locals who escape to the beach is a good idea. Besides, that's when the prices are higher!
You are honestly much better off traveling to Rome in the shoulder months – March to May (but not during Easter) and October and November. Most sites observe summer timings from 1 April to 31 October, meaning you will have longer hours to visit; the prices will be a bit lower and there will be less tourists.
My favorite month in Rome is by far October!
Read my posts A Guide To Visiting Rome In August and The Best Time To Visit Rome.
Select a few landmarks and get skip-the-line tickets
Rome first time visitors typically want to see the most famous landmarks in the city, and I am sure you will be no different. Places like the Colosseum, the Roman Forum and Palatine Hill, St. Peter's Basilica and its Dome, the Vatican Museums and Michelangelo's masterpiece the Sistine Chapel, the Spanish Steps, Trevi Fountain, Piazza Navona, the Pantheon and Borghese Gallery are all must see and you really should not skip them. But these sites get crowded, they have time slot entries and unless you purchase your tickets in advance you may be stuck in line for hours and even rick not getting a ticket at all.
So here is an important tip for visiting Rome: get tickets to visit the most famous places online and well ahead of your trip, and possibly join a guided tour, as a good guide will help you dodge the crowds (and share important information that will help you put the place in context). For sites that don't have an entry fee, read my tips below.
My recommendation is to get skip the line tickets to the Colosseum here; and tickets for the Vatican Museums and Sistine Chapel here.
In fact, although St. Peter's Basilica is free to access, I suggest you snag a ticket for that too as it will allow you to go through the line much faster and will usually include a ticket to the Dome (which costs €8 and for which you'd otherwise have to line). The best tour is this one that departs at 8:00 am so you can pick to visit the Vatican Museums and Sistine Chapel immediately afterwards.
A great alternative to skip-the-line tickets or skip-the line tours may be the Rome City Pass. Personally, I am not a big fan – you can save a bit with it, and you can get discounts for a bunch of places; but you would have to make separate reservations for each attraction anyways and you never have a guide (in some places you can get an audio-guide).
If this still sounds like a good idea, you can get this Roma City Pass. It includes skip-the-line tickets to the Colosseum and to the Vatican Museums and the Sistine Chapel; dedicated entrance to St. Peter's Basilica where you also get an audio-guide.
You may also want to look for a pass that includes a public transportation pass and / or transportation back to the airport.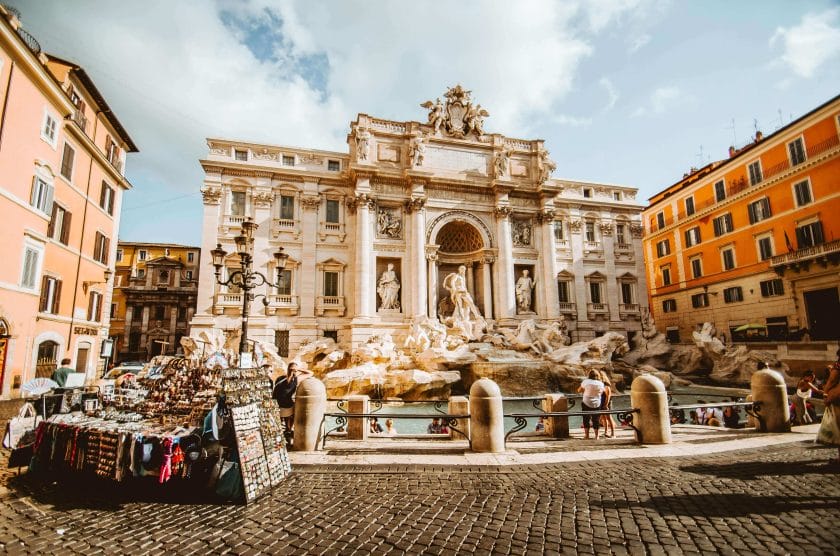 Visit the most crowded places at odd times
This is a bit of an odd tip and I am not sure it will work for everyone – but alas, here we go!
Whereas with attractions that require a fee you usually pick a time slot for your visit, the same can't be done for the many free attractions in Rome. Places like the Trevi Fountain or the Spanish Step area busy throughout the day and your chances of getting a good photo with only you or your better half posing in it are slim.
Unless!
Unless you become a night owl and go there in the middle of the night – we are speaking like 2 am here to have a chance to get the place to yourself. Or else, plan to visit after dinner. If you are staying in the Historic Center, you could simply swing by on your way home after dinner and hope there are a bit less people.
GOOD TO KNOW: Trevi Fountain and Piazza di Spagna (AKA the Spanish Steps) are only 8 minutes walk one from the other.
What with attractions that are free to visit but have an opening time, then? For example, the Pantheon opens at 9:00 and closes at 7:15 pm Monday to Saturday and at 5:45 pm on Sundays, and it is free to visit and usually packed with tourists. In this case, I recommend going about 45 minutes before the site closes. It really doesn't take that long to browse around, anyways! Or else, plan to have an early breakfast in a café nearby and be the first to walk in as soon as it opens.
Check out my post The Most Beautiful Fountains In Rome and A Guide To Trevi Fountain.
Give yourself an extra day in the city
Have you planned to spend 3 days in Rome to visit all the most famous places? Then here's a really cool tip: give yourself an extra day in the city. Even when you think it is not necessary; and even if you think you are tight on time. I promise you, you will not regret it.
That extra day will give you time to explore the city more spontaneously, getting off the beaten track to discover places that are right in front of your eyes but not on anyone's bucket-list (yet they should be!). Places like Largo di Torre Argentina archeological site and cat sanctuary are only steps away from the Altare della Patria of Piazza Venezia, and an incredible place to explore.
For more hidden gems in Rome, read my post 31 Incredible Places To Explore Rome Off The Beaten Path.
Not convinced? You can use that extra day to explore a few interesting sites out of town. If you are keen on archeology, head over to Ostia Antica; if wine tasting is more of your thing, a day trip to Castelli Romani is probably the best option (and you can easily add Castel Gandolfo Papal Palace to that). If you are keen on visiting lesser known places, head to Viterbo, the capital of the Tuscia region. The best part of it? Most of these places can be easily reached by public transportation.
Short on time? Read my post How To Visit Rome In A Day. If you have more time, read my post How To See Rome In 3 Days.
Pick what you pack
This is so key for any trip, but even more so for a trip to Rome!
Just keep in mind two things. First of all, you need to be dressed modestly to visit any church in Italy, and even more so for St. Peter's Basilica – and yes, they will really check what you are wearing. If you are visiting Rome during the winter months, this is hardly an issue. But during the summer, you will be tempted to walk around in shorts and a tank top. Don't! Or, if you do, pack a shirt and a pair of pants or longer skirt you can quickly wear on top so that you can walk in. Remember your knees, shoulders and chest must be covered.
Secondly, remember you will be doing a lot of walking – and oftentimes on cobbled or paved streets which are not easy to walk on if you are wearing heels. So, comfortable shoes are key and they will honestly influence the outcome of your trip. Pack a pair you know is comfortable and won't give you blisters. Nowadays most walking shoes an also be super glamorous!
Make sure to read my post What To Wear In Rome.
Stay in the Historic Center
There are plenty of good accommodation options in Rome, for all budgets and all needs and tastes. My tip is to stay in the Historic Center (Centro Storico, the area where Piazza Navona and the Pantheon are located), so that you can easily access sites and have plenty of restaurant options. The Historic Center is well connected to the rest of the city by bus or by metro (metro stop Piazza di Spagna)
These are some places you may want to consider:
G-Rough – a boutique at 5 minutes walk from the Pantheon and one minute away from Piazza Navona. It's located in a 17th century townhouse and rooms are decorated in retro style. There is a fantastic terrace.
Residenza Gonfalone – A great one bedroom apartment nicely located between Piazza Navona and Campo de' Fiori, and at about 20 minutes walk from Trevi Fountain. It comfortably fits a couple.
Know what to eat – and where
Food in Italy is delicious and you will be eating loads when visiting Rome. Whether you opt for street food like supplì (mouthwatering fried cones of rice stuffed with melting mozzarella), dishes of Roman Kosher cuisine in the Jewish Ghetto or more traditional food like a good carbonara, you will be in for a treat.
First of all, to learn a bit more about local flavors you may want to join a guided food tour such as this one.
You also have to pick where you eat carefully.
You see, Rome has been catering to tourists for many decades now, and restaurants will be open throughout the day. But locals won't just eat at any time. People in Rome wouldn't dream of sitting down for lunch before 1:00 pm, and dinner time for Italians – at least in this part of the country – is never before 8:00 pm. If it's mid afternoon and you see someone sitting down in front of a large portion of spaghetti, that's your cue that it is a tourist restaurants. Italians would at most have "merenda" (snack) then!
Likewise, if you see things such as "spaghetti bolognese" or "fettuccine Alfredo" on the menu, run away: those aren't dishes known in Italy.
Other than that, the best way to find a local restaurant would be to ask your hotel receptionist or browse in the folder you should find in your Airbnb – and if there isn't one, send a quick message to the owner. And if you can't find any other information, call Trattoria Vecchia Roma and book a table there – it's my favorite restaurant in town and absolutely delicious.
And here's a final note: tipping in Rome is not compulsory. Staff at restaurants and hotels, drivers and tour guides are all paid fair wages and benefits. That's why we at most round up the bill to include a few Euro. Also, whenever you spot a servizio charge in your final bill, that means that a compulsory tip has already been added and you don't need to tip on top of that – this usually happens for larger groups.
For more information, check out my post Tipping In Italy: When To Tip And How Much.
Beware of scams
Scams are common in any place where tourists abound, and Rome is certainly one of them. Keep your eyes open when visiting Rome, especially in places such as the Colosseum and Termini Station, and beware of anybody who is overly friendly – ie suggesting they can carry your luggage; or that they can help you buy your train tickets.
Never accept anything from strangers – a rose, a bracelet or whatever else. Don't touch it and if they place it in your hand, drop it immediately and say you'll call the police – polizia in Italian – and be ready to do so if necessary! The number to call is 112.
Make sure to read my posts The Worst Scams And Pickpockets In Rome and Is Rome Safe?
Plan how to get to Rome and how to move around
One thing you need to do before your trip to Rome is to actually research and decide how you're going to get to town after landing.
Please be advised that Rome has two airports. Fiumicino (FCO) is where intercontinental flights and all major airlines land, as well as a few budget ones. Ciampino (CIA) is served by budget airlines and connects Rome to other cities in Italy and Europe. Both airports are well connected to the city.
To get from Fiumicino Airport to Rome, you can take the express train which runs every 15 to 30 minutes depending on the time of day. You can get your train tickets here. You will have to validate your ticket before you board the train. The train takes between 30 and 50 minutes, depending on whether you take the fast one with no intermediate stops, or the regional one which stops at various stations.
If you have lots or luggage or are keen on traveling a bit more comfortably, you can opt for a private transfer which costs around €50 for a group of up to four passengers. Click here to book yours.
For more information on how to get from Fiumicino Airport to the city center, read this post.
To get from Ciampino to Rome you can opt for a taxi, a private transfer or a bus. Terravision runs regular buses connecting the airport to Termini Station.
The best way of visiting Rome is by far on foot, but you will occasionally need to cover longer distances. In this case, you can use the bus or the metro. You can get tickets whenever you need or, better, get a Rome Public Transportation Card (ATAC) here. Remember to validate your ticket as soon as you board the bus or before boarding the metro.
Taxi are found easily in Rome and work by meter. Beware of scams and taxis taking longer routes to get to your final destination. You can book your taxi with the app MyTaxi. Uber is not a thing in Italy.
Finally, if you are a fan of bikes, you have the option of renting one (you can get yours here) to explore the city; or to just join a guided tour such as this one.
Activate an international data plan
Last but not least, before traveling to Rome make sure you have a data plan that you can use overseas too. If you are traveling from somewhere in the European Union, your phone plan will carry over to Italy too. If you are traveling from the US or other countries, you will need to check with your phone provider.
Having a data plan when visiting Rome will save you from many a hassle: you can use it for apps such as Google Maps to move around town (though you can also download maps to use them offline); you can use it for apps to call taxis or book restaurants (we use The Fork); or to run apps such as audio-guides for many landmarks.
Another thing you may actually find handy is a good old guide book – that's where you will find quick tips for restaurants, places to visit, numbers to call in case of emergency etc.
Further Readings
Are you planning on visiting Rome? These other posts may come in handy:
Pin It For Later!