Is Rome worth visiting? Whenever I hear this question, I am honestly puzzled – because it means that there still are people that have doubts about visiting the Eternal City; that are uncertain it is for them; and that aren't sure they will find what they are looking for there.
Truth is, Rome is a city that hardly leaves you indifferent. It's the kind of place you either love or hate – and most inevitably love it.
Rome is a city with layers of history, where next to ancient archeological sites you will find modern state-of-the-art buildings. For as touristy as it is, the Italian capital has very much remained true to itself. Visit Rome and you will find a city that is not gentrified, where locals still own the place. It can appear dirty, rough on the outside, but if you manage to capture its essence, you will fall in love with it.
To appreciate Rome, you need to look beyond what meets the eye – though there is lots of that, to be fair! Spend enough time there, and you will be able to take in all its beauty, its culture, the treasures.
So, is Rome worth visiting? It is for sure and in fact you should use it as the starting point of your trip to Italy. If you are still looking for reasons to visit Rome, you are in the right place. I'm the biggest advocate for the Italian capital! Continue reading, as I will leave you no doubts.
Is Rome Worth Visiting? Top Reasons To Visit Rome
The Archeological Sites
There is no doubt that the impressive archeological sites should be one of the reasons to visit Rome!
The Colosseum is bound to impress you. One of the main landmarks in Rome, it's probably the first thing that comes to mind when thinking of it. A UNESCO World Heritage, the Flavian Amphitheater (that's its actual name) was built between 72 and 82 AD, under Emperors Vespasian and Titus. Imagine that at its peak it would accommodate up to 80,000 spectators!
But that's not the only spectacular site you will find in Rome. Right next to it, the Roman Forum was first a market complete with food stalls, temples, brothels and the House of the Senate, and later on became a ceremonial center. The Palatine Hill nearby is another must-see: this is where the legend of Rome started, when twins Romulus and Remus were first brought up by a she-wolf and later on posed the foundations of the city.
Tickets to the Colosseum cost €16 and include admission to the Roman Forum and the Palatine Hill.
The Museums
Rome isn't just a massive open air art gallery, but it has an incredible selection of museums. If you are spending just 3 days in Rome, stick to the most famous museums in town – Borghese Gallery to see the works of Bernini, Titian, Raphael, Caravaggio and many more; the Vatican Museums where you can spot Michelangelo's magnificent Sistine Chapel; the Capitoline Museums to spot the famous she-wolf statue.
If you have more time, opt for other, quirkier art galleries. My favorite one is Centrale Montemartini – you'll see classic statues in the setting of a former electric power plant. You should also check out MACRO, Rome Museum of Contemporary Art.
Make sure to read my posts Where To See The Works Of Michelangelo In Rome and The Best Museums In Rome.
The Churches
Churches are definitely one of the reasons to visit Rome, and you really have no excuse not to see at least a couple: access to churches is free in Italy, with only a very few ones requiring a fee to visit a crypt, or the dome, etc.
The first church you should explore when in Rome is definitely St. Peter's Basilica. Fair enough, it's actually in the Vatican City – but let's not get menial about it! And did you know that the Pantheon, one of the most famous buildings in Rome, is actually a church? Go ahead and marvel at the incredible structure!
Other churches you should consider visiting are the magnificent St. John in the Lateran, which is the seat of the Pope in Rome; San Clemente Basilica, one of the oldest churches in the city; and Santa Maria della Vittoria, where you can see one of Bernini's masterpieces, the Ecstasy of Saint Theresa.
Read my post The Most Beautiful Churches In Rome.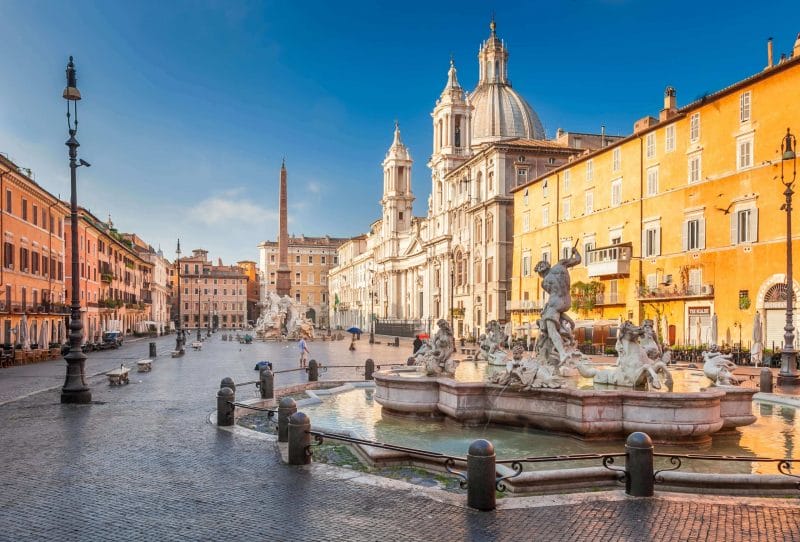 The Fountains
Is Rome worth visiting for travelers on a budget? Well, I won't deny that Rome's reputation for being terribly expensive is well deserved. However, there are so many attractions that are completely free to visit, and among them there are the many fountains you will find scattered around town.
From the world-famous Trevi Fountain to Bernini's Fountain of the Four Rivers in Piazza Navona and his Triton Fountain in Piazza Barberini and Fontana della Barcaccia by the Spanish steps; to the lesser known Fontana dell'Acqua Paola, the many fountains in Rome are all a work of art waiting for you to admire them, completely free of charge.
And did you know that water in Rome is safe to drink? That's right: the many nasoni (drinking fountain) will prove an endless source of hydration even on the hottest days.
Check out my post The Prettiest Fountains In Rome.
The Beautiful Piazzas
Rome is home to countless beautiful squares. You will surely have heard of Piazza Navona and Campo de' Fiori, two of the most famous squares; and you will immediately recognize Piazza di Spagna – likely known to you as the Spanish Steps. Other squares you will come about during your wanderings around town will be Piazza del Popolo, one of the largest squares in Rome; Piazza Venezia, where you'll spot the Altar of the Fatherland; and Piazza del Campidoglio. If you care to see a lesser known square, head to Piazza Mincio, in the Copeddè district.
For more squares in Rome, read this post.
The Stunning Views
Among the reasons to visit Rome, there's the views! Perched on the hills (there are actually more than seven hills in Rome) as it is, you are bound to find many places to take in the views of the city, and whether you are a photography geek looking for the best shot or a romantic at heart looking for the right time to propose to your better half, you will find the perfect spot.
Head over to my post Where To Find The Best Views Of Rome.
The Hidden Gems
Escaping the crowds in Rome is actually incredibly easy. Turn right instead of left on your way to Piazza Navona (just saying, but you get the point!) and you may find yourself in a beautiful, picture perfect spot that tourists have yet to discover – and that's right in the historic center of town. How many other places do you know where you can get off the beaten path without traveling for miles?
Discover the other Hidden Gems In Rome.
The Atmosphere
Despite being Italy's prime tourist destination, Rome has maintained its local character and it's remained true to itself.
Although being a truly multicultural place, with people from various parts of the world that now call it home, Rome also remains very Roman at heart. This is a city that hasn't been polished up for tourist purposes – proof is the dirt you will often spot in various parts of the city; it's a place where locals haven't moved out to make room to the myriad of Airbnb and short term apartment rentals.
The atmosphere in Rome is just something else! People can be incredibly friendly and at the same time very grumpy and abrupt: rest assured they will never put up a face for you!
Just make sure to avoid visiting Rome in August: that's when most locals go on their summer holidays and you'll end up being in a city that is just packed with tourists.
Head over to my post The Best Time To Visit Rome.
The Food!
When I get asked: "Is Rome worth visiting?" and I am at a loss for reasons to visit Rome, I start speaking about food. Some of the most popular dishes of Italian cuisine abroad actually come from Rome. You may have seen them on the menu of your local Italian trattoria – except in Rome you can finally have the real thing.
Dishes such as spaghetti cacio e pepe, amatriciana and carbonara are among the staples you should order at a Rome restaurant – they will likely taste a bit different from what you are accustomed to but let me stress that's how they should be prepared! Other dishes you should try include saltimbocca alla romana – delicious veal cutlets with prosciutto and sage; carciofi alla romana and supplì al telefono – mouthwatering cones of rice stuffed with mozzarella and fried.
Not sure what to order? Read my post What To Eat In Rome.
The Incredible Nightlife
Rome knows how to throw a party and if you want to stay up until the wee hours, you will find plenty of things to do to keep yourself entertained. Bars, pubs and clubs abound in the city, and in the good season people just pour onto the streets and piazzas to enjoy a drink and a chat with their friends.
Not sure where to start? Head over to Trastevere, it's the best nightlife hub in Rome. Just don't book a room there if you are a light sleeper!
The Connections
Rome is incredibly well connected to the rest of the world. If you are coming from the other side of the world, chances are your flight will be landing in Rome so why don't you take the opportunity and stop for a few days? But there's more! There are regular offers for flights to Rome – it can be as cheap as $500 to fly there from the East coast of the United States, so definitely do not miss on the opportunity to go!
Final Thoughts: Is Rome Worth Visiting?
In case I haven't made it clear, Rome really has it all and whether you are looking for a thriving city packed with art, sights and things to do, or just a quiet corner to appreciate the Italian "dolce vita" you are bound to find it in Rome.
Not convinced? Check out my post The Best Movies Set In Rome.
Pin It For Later!