Are you spending a few days in Rome? Make sure to get out of the city and do at least one of the many incredible day trips from Rome.
The Italian capital is packed with incredible places to visit: archeological sites, quaint neighborhoods, museums and churches – you name it. But big as it is, it can get overwhelming. The good news is that it is so centrally located that getting out of town to explore a bit further is incredibly easy!
Here are the best day trips from Rome – selected by professional travel bloggers, and with information on how to get to the destination and how to make the most of it. Enjoy!
The Best Day Trips From Rome
Ostia Antica
Submitted by Rhonda Krause of Travel? Yes Please!
If you love history and ancient sites then Ostia Antica is well worth visiting on a day trip from Rome.
Ostia was once an important port city for the Roman Empire but was later abandoned after the collapse of Rome leaving behind vacant warehouses, apartment blocks, shops, temples, and other public buildings. The city was eventually covered by mud when the harbor silted up but excavations have since unearthed an impressive amount of the ancient city.
When you visit Ostia Antica and explore the archaeological remains, you'll get a sense of how life was in a Roman port city. You can see remnants of cobblestone streets, sculptures, workshops, inns, taverns, communal baths, and even latrines. Notable highlights include the reconstructed theatre and preserved mosaic floors in the baths. Inside the museum you can see artwork and other artifacts discovered during the excavation.
To get Ostia Antica from Rome you need to catch the train from Roma Porta San Paolo Station towards Roma-Lido. You can also drive there or book a guided tour that includes transportation. Click here for more information.
Frascati
Submitted by Annabel Kirk of Smudged Postcard
Frascati is a brilliant day – or evening – trip from Rome. It is one of the hilltop towns which make up the Castelli Romani, set in the once-volcanic Colli Albani. Due to its elevated location, Frascati is particularly appealing in summertime where the temperature is a few degrees cooler than the capital.
Romans and tourists alike flock here for evening meals. Although more well known for its refreshing sparkling white wine, the region is also famed for its pork products. As the sun sets behind the hills, people meet at communal tables to enjoy the local cuisine. Carafes of wine are collected from the wine cellars and charcuterie stalls sell delicious porchetta dishes.
The streets of Frascati are a joy to wander through in the summer evenings. Families meet for an evening passeggiata, children enjoy ice creams and there is a convivial atmosphere to the place.
20 kilometers south east of Rome, Frascati is best reached by one of the regular trains from the capital – a journey of around 30 minutes. Just ensure you don't miss the last train back! Alternatively, opt for a guided tour such as this one. For wine tasting tour of the area, you can consider this option.
Tivoli
Submitted by Ingrid Zudor of IngridZenMoments.com
The perfect Sunday getaway, an escape from Rome to Tivoli would offer a great day trip and plenty of history without having to travel too much and too far.
The main attractions in this small town set on the Sabine hill are the Villa Adriana (Hadrian's Villa) and Villa D'Este, both part of the UNESCO World Heritage.
Stop at both villas of Tivoli ( Hadrian's Villa – once the most impressive imperial villa in the Roman Empire, and Villa D'Este with its magnificent gardens and waterfalls), but take the time to stroll on the streets of this laid back small town and enjoy a delicious meal with a view from the hills.
Getting there is easy no matter how you choose to go: there are plenty of organized tours to choose from, you can hop on the train at Tiburtina train station and ride for around 45 minutes, or you can drive there if you have a car.
You can buy tickets to Villa Adriana here. For guided tours of both villas departing from Rome, click here.
Castel Gandolfo
Set on the shores of Lake Albano is Castel Gandolfo, a lovely small town famous for being the Pope's summer residence and one of the most popular places to visit on day trips from Rome. The 17th Apostolic Palace of Castel Gandolfo was built above the ancient residence of Emperor Domitian. The palace and the minutely manicured gardens were designed by Gianlorenzo Bernini's, as well as the main church.
Once you are done visiting the Papal Palace, head down to the lake for a refreshing dip. You'll find a well equipped beach where you can rent a kayak or a SUP for extra fun. Hungry? Find a "fraschetta" – a typical village eatery – and enjoy a delicious local meal.
Direct trains to Castel Gandolfo depart from Roma Termini station. Tickets cost €2.10. You can check the train timetable and buy train tickets here. Alternatively, go on a guided tour that includes roundtrip transportation and a visit to the Papal Palace. You can book it here.
Make sure to read my post A Short Guide To Castel Gandolfo.
Lago di Bracciano
32 km (20 miles) northwest of the capital and just a 40 minutes drive, this is one of the nicest, largest volcanic lakes near Rome, serving drinking water to the Eternal City and home to some of the nicest beaches near Rome and picturesque villages.
The highlight of a day trip here is the Orsini – Odescalchi Castle, built in the 15th century, and the 13th century Duomo. Not far from the shore you'll also find the remains of a Neolithic settlement daring back to 5690 BC – artifacts are on display at museum in Anguillara Sabazia.
Fancy a dip? Make sure to go to La Marmotta beach or head to the quieter Vigna di Valle.
To get to Lake Bracciano take the train from either Rome Tiburtina Station, Trastevere, San Pietro and Valle Aurelia to Bracciano. The ride lasts about 45 minutes. You can check the train timetable and buy train tickets here.
Make sure to also read my post An Easy Guide To Anguillara Sabazia.
Tarquinia
Submitted by Soumya Gayatri of Stories by Soumya
If you are looking for a unique day trip from Rome, head to the old city of Tarquinia made famous by the presence of 6000 ancient Etruscan graves that were inscribed on the UNESCO World Heritage list in 2004.
Some of these Etruscan tombs at Tarquinia date back to as early as 9th century BC and reflect various kinds of burial practices from ancient times.
Over 200 of them are filled with stunning wall paintings that give us deep insights into the Etruscan way of life. There are images of dancers, athletes, jugglers, and hunters – all going about their daily lives. You can see frescoes depicting musical instruments, Etruscan clothing, dance, and sports of that era. A couple of tombs that you should not miss are the Tomb of Leopards and the Tomb of Hunting & Fishing.
Be sure to visit the Tarquinia National Museum at the end of your tour. It houses many interesting exhibits including original sarcophagi and restored frescoes.
You can easily get to Tarquinia from Rome by car or train. There are frequent trains from Roma Termini. The journey takes about 1.5 hours. You can book your day trip from Rome to Tarquinia here or here.
Viterbo
Viterbo is one of the lesser visited cities in Italy. Located about 100 km (62 miles) from Rome, this is a lovely place for day trips from Rome, in the Tuscia region, once known as Etruria and set between northern Lazio, Umbria and Tuscany's lower Maremma.
Once you get to Viterbo, enjoy a stroll in the historical center, surrounded by well kept walls. The city was the seat of the pope for about 24 years in the 13th century, so you'll find a beautiful Papal Palace. Other places you should visit are the Romanesque-Gothic Duomo of San Lorenzo and the Church of Santa Maria Nuova. San Pellegrino is a charming historic neighborhood.
Viterbo celebrates its saint patron – Santa Rosa – on the night between 3 and 4 September each year. It's a unique show of light during which a massive papier-mache statue is carried along the narrow streets of the historic center. It's been enlisted among the intangible cultural heritage of UNESCO in 2013.
You can get to Viterbo by train from Rome Aurelia train station. The journey takes around one hour and 45 minutes. Once there, you can walk around on your own or join a guided tour of the city. I found the underground tour of Viterbo particularly interesting. You can book it here.
Make sure to read my post A Curated Guide To Viterbo.
Orvieto
Submitted by Dhara of It's Not About the Miles
The little Umbrian hill town of Orvieto makes for the perfect day trip from Rome. It is easy to access by public transport, and there are so many fun things to do in Orvieto in one day!
Start with a tour of the town's duomo, which is truly magnificent given Orvieto's small size. The dazzling facade features frescoes and bas reliefs. Inside, you will be awe-struck by the San Brizio Chapel.
Stroll the Piazza del Duomo, where you will find lots of shops selling ceramics. Orvieto is famous for ceramics, and a great place to shop for souvenirs or gifts.
Wander the beautiful streets of the town, pausing to admire landmarks such as the Torre de Maurizio. Climb to the top of Orvieto's clock tower for stunning views over the town rooftops, streets, and the surrounding countryside.
Exploring Saint Patrick's Well is another must. You can climb all the way down to the bottom and back up again. The design, with its two shafts, is ingenious. If you book in advance, you can also do the guided Orvieto Underground tour to see the Etruscan ruins. You can book it here.
The train is the best way to get to Orvieto from Rome. They run frequently and take just over an hour. From the station, take the funicular to the historic center. From the funicular station, a local bus will bring you to the cathedral.
You can also visit Orvieto on guided day trips from Rome that includes a stop in Assisi. You can book it here.
Make sure to read my post A Short Guide To Orvieto.
Civita di Bagnoregio
Civita di Bagnoregio is a lovely tiny town in the region of Tuscia, at 440 meters above sea level and on the border with Umbria. It is known as the dying village because it stands on a hill that is slowly eroding and collapsing into the Valle dei Calanchi below. The city was founded between the 9th and 8th centuries BC, and subsequently inhabited by the Etruscans.
This beautiful isolated village is only connected to the surrounding areas via a narrow bridge that's been rebuilt several times, and is the only way to actually get to the village – via the Romanesque Arch of Porta Santa Maria.
Civita di Bagnoregio is about 25 km (15.5 miles) from Orvieto, so you could consider visiting both on the same day. Getting there by public transport implies catching a train from Roma Termini to Orvieto and the bus from Orvieto to Civita. An easier option is a guided tour, which you can book here.
Rocca Massima
Submitted by Megan Starr of Megan & Aram
Rocca Massima is not a village that is on many people's radar when taking a day trip from Rome, but if you love an off-the-path experience and a little bit of adventure, it is definitely worth the trip!
Located on a large hill hovering 735 meters over the land below, Rocca Massima offers unparalleled views of the region – boasting views of the Pontine plain as well as the Tyrrhenian Sea (on clear days).
There is not an overabundance to do there, but you will keep occupied if you're a nature lover. Some of the major sights in Rocca Massima are actually the local peaks of Monte Garofalo and Monte Rinzaturo. Because of the rugged terrain, you will find several hiking opportunities in and around these mountains.
One of the most popular hikes is the Rocca Massima loop trail that takes you around Monte Lupone to Campo di Segni and back to Rocca Massima. It is a moderate trail that is around 26 km (16 miles) long.
Another top thing to do in Rocca Massima is to visit Flying in the Sky, the longest and fastest zipline in the world. It is one of the best places to go ziplining in Italy and is a fantastic Rome day trip for those seeking a bit of adventure in a remote area in Lazio.
The best way to get to Rocca Massima is by private car. You can hire someone to take you there, but it is a very remote and quiet area and it is best seen and reached by private vehicle.
Florence
Submitted by Chrysoula Manika of Two Days in a City
One of the most popular day trips from Rome is Florence. As the heart of the Renaissance, Florence boasts some great museums including the Uffizi that is perfect for art lovers, and the Galleria dell Academia for Michelangelo's famous David. Visit the cathedral in Plazza a del Duomo and climb the 463 steps of the bell tower for amazing views.
Near Piazza del Repubblica find the bronze pig and pop a coin in its mouth – if your coin drops through the grate, make a wish as it will come true! End your day with the most amazing sunset views from Michelangelo square.
You can easily reach Florence by train in just 1 hour and 30 minutes. Alternatively, you can book a guided tour such as this one. Don't forget to book skip-the-line tickets for the museums in advance so that you can save time and enjoy the city more.
Check out my posts How To Plan A Day Trip From Rome To Florence and How To Get From Rome To Florence.
You may also want to read my posts How To Get From Rome To Pisa and How To Get From Rome To Venice.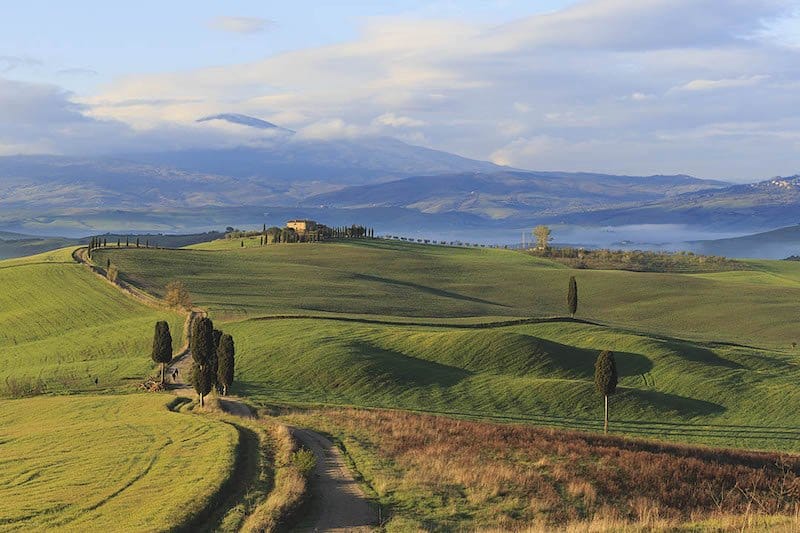 Val d'Orcia
Submitted by Marat Stepanoff
Talking about the best of Tuscany, it is impossible not to mention Val d' Orcia, the heart of Tuscany. There are incredible rural landscapes of the famous Tuscan hills, cypress alleys and the best part of it is that albeit a bit far, you can visit this lovely region on day trips from Rome.
If you are limited to one day, you can visit the highlights of Val d' Orcia and drive along the valley itself. Don't forget to have a wine and cheese Pecorino di Pienza tasting. And of course, you should take a walk through the medieval tiny towns.
In Val d' Orcia you must drive because there are many places that cannot be reached by public transport. If you are traveling from Rome, I recommend renting a car. Take the A1 Highway from Rome. Then you need to take the highway Chiusi – Chianciano Terme. Then drive to Montepulciano. The distance from Rome to Montepulciano is approximately 180 km (112 miles), but it takes no more than an hour and a half.
Montepulciano is not located in the Val d' Orcia, but in any case, it is part of the route.
If you are not sure if you can abstain from wine tasting you should take one of the one-day tours from Rome such as this one. A professional guide will show you the best and you don't have to limit yourself.
Ponza Island
Submitted by Linda Faison of La Dolce Fit Vita
Just because you're in Rome doesn't mean you can't have that Italian coastal moment! That island vibe complete with boat cruising or vespa driving is just a mere couple of hours from Rome believe it or not.
A place where you will get to experience some of the most pristine waters in Italy, Ponza Island is a true hidden gem. Not only is Ponza a quiet and uncrowded place, it's also a place where you can have a more authentic experience exploring a more "rugged" type of nature.
If you're a fan of boating, rent a boat and have fun exploring all the little coves. Cala dell'Acqua is just stunning and if you're a fan of diving you can even venture to explore the sunken American World War II ship there.
Another local favorite spot are the Piscine Naturali, natural pools that have developed into the actual rock of the island. The water here is absolutely stunning and there are even a couple of restaurants right on the rock! For aperitivo, an absolute must is getting a drink at Chiaia Luna where you will get the most beautiful sunset views overlooking the bay.
Getting to Ponza is quite easy. Drive or take the train to either Anzio or Formia because you can easily take the train and then walk to the port (it's about a 10/15 min walk). Opt for a hydrofoil to make the most of your day trip and if you drove to the port, leave your car in parking. Make sure to also plan ahead when going to Ponza – many ferries do not operate during off-season so check those timetables! For a guided tour departing from Rome and that includes a boat ride, click here.
Naples
Submitted by Lori Sorrentino of Italy Foodies
Naples is one of the most unique cities in Italy. On the surface, Naples can be overwhelming and a bit rough around the edges. But that's what makes it so compelling. From priceless works of art in the most surprising of places to iconic foods, Naples is Campania's diamond in the rough.

For the day, plan to visit the beautiful Naples Duomo and the famed Naples archaeological museum with preserved artifacts from Pompeii. Walk the narrow streets through neighborhoods and browse the daily markets that are everywhere.
But no matter what you do, go to Naples to eat — the true culture of the city is experienced through food — pasta, wine, the unique pastries zeppole and sfogliatelle, and most importantly pizza. If there is one food you must try in Naples, it's pizza. The original Pizza Margherita will ruin you on pizza forever.
Naples is 229 km (140 miles) south of Rome, and the high-speed train can get you there in 1 hour and 10 minutes making this one of the best day trips from Rome. Depending on your seat selection and the time of day, it's inexpensive as well with tickets ranging between $15-77 USD.
Make sure to read my posts The Best Day Trip From Rome To Naples and How To Get From Rome To Naples.
Pompeii
Submitted by Pauline of BeeLoved City
Located 2h30 south of Rome, Pompeii is one of the most famous places in Italy and is the perfect day trip for history buffs.
This Roman town was covered by ash when Mount Vesuvius erupted in 79AD. It's a great place to discover what life was like during the Roman Empire.
Although not as well preserved as Ercolano, Pompeii is a full-sized town and can be explored on foot. It is much bigger that you may expect so make sure to wear comfortable shoes and a hat.
As you roam through the streets of Pompeii, you will discover the alleys, houses, baths, forum, amphitheater and even what used to be a vineyard!
Pompeii is a popular destination as a day trip from Naples but can also be done from Rome.
It will take you up to 3 hours to get there by car or public transport from Rome. For this reason, it's often preferable to book a day tour from Rome such as this one. That way, you can just relax and enjoy your day instead of stressing about the logistics. Being with a local guide will also come in handy. The guide will explain everything and point out sites you wouldn't have noticed otherwise.
Make sure to also read my posts A Perfect Pompeii Day Trip From Rome and How To Get From Rome To Pompeii.
Positano
Submitted by Jackie Rezk of Jou Jou Travels
Positano is one of the top Amalfi Coast destinations and when you will arrive, you will understand exactly why! There are beautiful beaches, sunset views, winding roads, endless shopping, and the best food you could imagine.
The main beach is Spiaggia Grande and is the most famous. If you would like to find a quieter beach then go to Fornillo or Arienzo Beach Club (Pictured, pre-booking required). A really fun activity includes taking a sunset boat ride which takes you to the famous arch and beach, the Fiordo di Furore.
Be sure to end your day with tasty food from Chez Black which specializes in seafood.
You can get to Positano from Rome either by taking the train to Naples and then taking the ferry to Positano. The train is a 1-hour journey to Naples and the ferry is an additional 35-minute journey. Alternatively, you can drive to Positano which will take just over 3 hours. Finally, you have the option of joining a guided tour from Rome for a completely hassle free day. You can book it here.
Sorrento
Submitted by Joanna of The World In My Pocket
Sorrento and the Amalfi Coast in general are one if Italy's most romantic areas.
There are quite a few things to do in Sorrento, starting with experiencing the beach clubs in Marina Piccola. Whilst there aren't proper beaches in Sorrento, it's part of the experience to sunbathe under a blue umbrella on one of the piers. Another must is having lemon gelato and limoncello made from the famous Sorrento lemons. A great place for a tasting, inside a real lemon grove, is Giardini di Cataldo.
One of the hidden gems in Sorrento is the Chiostro di San Francisco. This quiet 14th century monastery has a lush garden and its hidden just behind one of the most popular viewpoints in Sorrento.
If you want to visit Sorrento from Rome, you can easily do it both my public transport and by car. With the fast train, it takes less than three hours to reach Sorrento, but you have to change in Napoli. By car, it's the same amount. The road between Napoli and Sorrento is so beautiful that I highly recommend you drive it. For a hassle free day, you can join a guided tour such as this one.
What other places do you recommend visiting on day trips from Rome?
Pin It For Later!