If you are visiting the Italian capital and are in search for the perfect place to stay, you are in the right place: here, I will share the best airbnbs in Rome – great apartment rentals that will make your time in the Eternal City absolutely memorable.
Rome is a beautiful city with a fabulous range of places to visit and activities; a thriving cultural life and an even better art scene; not to mention delicious food, lots of shopping opportunities and thriving nightlife. Rome is one of the most visited cities in the world: you will be impressed with the many places to visit; the many, incredible historical landmarks; the thriving art scene; the rich culture; the delicious food and the fun nightlife.
The biggest city in Italy by population, Rome can be quite overwhelming. I won't deny that at times it can really get to you, even if you are a local or know it really well. It goes without saying that – especially if it is your first time in town – picking the right accommodation and especially the right location is key to having a good time: different neighborhoods have different things to offer.
One thing to keep in mind is that Rome is one of the most expensive cities in Europe. Pick the wrong place to stay, or leave the task of booking your accommodation, and you will easily blow your budget.
But don't worry, I am here to help! In this post, I select the best Airbnbs in Rome that are great value for money, charming and perfectly located. Let me start with a quick overlook of the nicest neighborhoods in Rome, and then I will go over some nice apartments to help you find a great Airbnb in Rome.
A Short Intro To Rome's Best Areas To Stay
Rome is an ancient city with a multitude of different neighborhoods, some traditional and others much more modern in flavor. Each one comes with a different atmosphere and its own choice of restaurants, shops, bars and historic sights. There really is something for everyone!
Curious to know which are the best neighborhoods in Rome? Read on!
HISTORIC CENTER – As you can tell by the name, the Historic Center (or Centro Storico), is the oldest part of the Italian capital. It's marked by a network of narrow lanes, cobblestoned streets and ancient monuments. Here you will find many of Rome's most iconic sites – from the Pantheon to the Piazza Navona. You'll also find an array of museums and Baroque churches housing masterpieces by the likes of Michelangelo and Caravaggio. As a result of its historic credentials, this is a popular spot for tourists and it can get a little crowded. But it's still a good option if you're staying in Rome for the first time as you'll be close to all the top sights.
MONTI – The cool, bohemian district of Monti is situated roughly in the center of the city. It's a vibrant hipster hotspot where you can find wine bars, craft beer and trattorie alongside vintage boutiques and even archaeological sites. The area is often home to a mix of locals, students and expats, with a selection of accommodation in the area (it's a particularly good spot to find an Airbnb in Rome). At the heart of Monti is the Piazza della Madonna dei Monti, a colorful square with a fountain where locals sit on steps eating gelato or sipping wine on the terrace.
PRATI AND VATICAN – Famously, the Vatican City is its very own city state, a nation separate to the rest of Italy. If you want to visit this independent enclave, you won't be able to stay within the Vatican itself. However, you do have the option of staying nearby in neighboring Prati. Awash with Art Nouveau buildings and harboring an upscale atmosphere, this district is situated northwest of Rome city centre. It's a great spot to uncover a more traditional side of life, with plenty of retro bars and old-fashioned bakeries, alongside other delicious foods.
TRASTEVERE – Traditionally working class, today Trastevere is a lively district awash with eclectic establishments will still remaining true to its roots. Among a warren of cobbled alleyways, you'll find hipster cafes, tiny bars and incredible restaurants. In addition, there is also a host of stylish accommodation. It's a bohemian, alternative sort of neighborhood with a vibrant nightlife scene to match. Situated across the Tiber from the Centro Storico, it's also a good place to stay if you want to experience a real slice of Rome's daily life.
OSTIENSE AND TESTACCIO – Once home to the city's industrial center, these twin neighborhoods are now some of the hippest (and most affordable) places to stay in Rome. Away from the crowds of the Spanish Steps, Ostiense and Testaccio boast hidden gems in the form of gourmet dining, delicious delicatessens and a number of its own cultural and historic sights. For example, in Testaccio you'll find the iconic Mouth of Truth and the 3,000-year-old Pyramid of Sestius.
ESQUILINO – Situated to the south of Rome's Termini train station, Esquilino is another of the city's seven hills. This district is home to a multicultural community, which is best shown through the gastronomic delights to be found throughout the area, including numerous African and Asian restaurants and eateries. As well as being a good place to stay in Rome for public transport, it's also one of the most affordable areas to stay in the Italian capital.
AVENTINE HILL – Rome was originally founded on Aventine Hill, which is one of the city's seven famous hills. It's an affluent area boasting leafy, residential streets that are dotted with charming churches and piazze. It's a much less touristed destination than the center of the city and makes for a peaceful place to stroll around. In fact, it's known for being a particularly beautiful area of Rome – especially the views out across the city, which are best glimpsed from the district's Giardino degli Aranci.
Finally, continue reading for the best Airbnbs in Rome.
The Best Apartment Rentals And Airbnbs In Rome
Stylish Rome Apartment
LOCATION – Prati
SLEEPS – 4
SUPERHOST – Yes
Located in Prati, with the Vatican City just on the doorstep as well as numerous shops and restaurants close by, this is a great base from where to explore Rome. But coming back to this stylish apartment after a day of sightseeing is part of the fun – complete with a cosy lounge and fully-equipped kitchen, it's full of modern design and warm interiors that make it feel welcoming.
With enough room to sleep up to four guests, this could be a good option for small families or a group of friends who want to stay centrally in the city.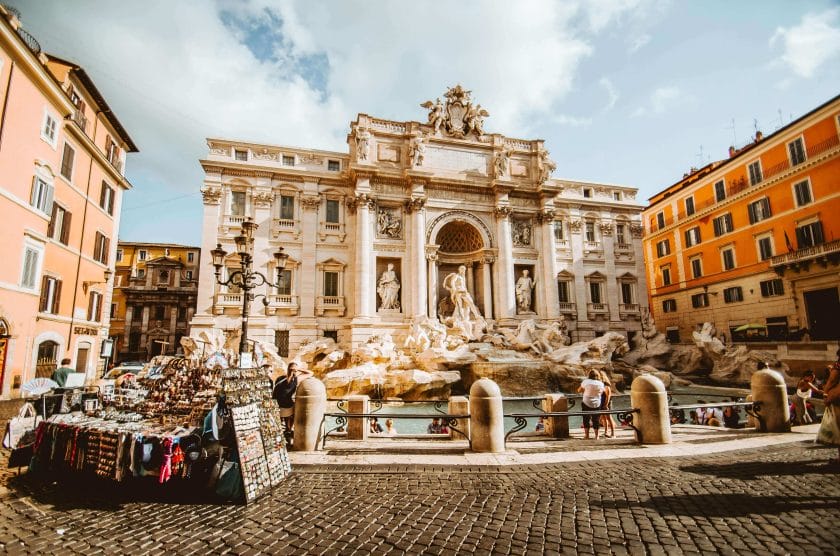 Charming Historic Apartment
LOCATION – Centro Storico
SLEEPS – 3
SUPERHOST – Yes
Easily one of the most beautiful Airbnbs in Rome, the interiors of this historic apartment are bound to charm you. With hardwood floors, antique furnishings and plenty of period features – including large windows letting in plenty of natural light – there's enough room for up to three guests to sleep.
The location is particularly amazing, being situated just meters away from the Trevi Fountain and the Spanish Steps. You can even hear the water of the fountain trickling from the window of your apartment!
LOCATION – Monti
SLEEPS – 2
SUPERHOST – Yes
At this beautiful Rome Airbnb, you can live out your vacation dreams by enjoying a bottle of wine on the charming terrace. Located in Monti, this apartment is just steps away from historic sights and bars and restaurants too. But even though it's close to some of the city's top sights, it still feels peaceful and calming to return to after a day of exploring. It's great for a couple, with bohemian and vintage details running through its interiors.
Modern Flat close to the Pantheon
LOCATION – Centro Storico
SLEEPS – 4
SUPERHOST – Yes
If you're in Rome for the first time and you want to spend your time sightseeing, then you should definitely consider staying in this apartment. You'll find this place just steps from the Pantheon (in fact, it overlooks the Pantheon!). Plus, it's an easy stroll from here to the Colosseum and the Piazza Navona.
Situated in an historic building dating all the way back to 1600, this Rome Airbnb has been recently renovated and is equipped with air conditioning for those hot summer days. It's actually full of cutting-edge modern design, with a monochrome color palette, sleek lines and rooms dotted with houseplants. There's room enough for four guests to sleep across its one bedroom and a sofa bed.
Beautiful Light-filled Apartment
LOCATION – Trastevere
SLEEPS – 4
SUPERHOST – Yes
Situated in a modernized historic property, this Airbnb comes with everything you need for a comfortable stay. There's a fully-equipped kitchen, dining table and mezzanine floor bedroom – all thoughtfully designed with modern, minimalist aesthetics and plenty of natural light. Sleeping up to four guests, there's one bathroom and one bedroom.
It's located in the hip Trastevere district, specifically in front of Tiber Island. There are plenty of bars, cafes and restaurants to explore in the local area too.
Stylish Trendy Loft
LOCATION – Centro Storico
SLEEPS – 2
SUPERHOST – Yes
Opting to stay in this stylish loft in Rome means you get to relax in cool, contemporary surroundings that are accented by colorful details and eye-catching artwork. It's set inside a 16th-century building, there's enough room in this one-bedroom Airbnb for two guests, making it perfect for a couple.
One of the best features of this apartment is its terrace. This is the place to sip your morning coffee, surrounded by plants, or maybe an evening glass of wine for a nightcap or aperitif. In terms of location, you'll find this Airbnb (also available on Booking) right on the Piazza di Spagna surrounded by some of the top attractions in the city.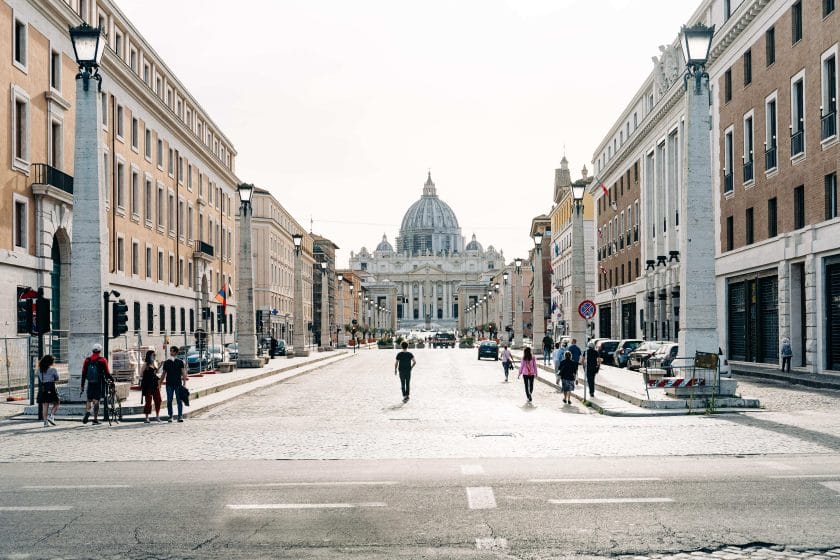 Designer City Apartment
LOCATION – Prati
SLEEPS – 4
SUPERHOST – Yes
This chic apartment has a great location for sightseeing – particularly if you're in Rome to pay a visit to the Vatican. You'll find it in the Prati district, just a stone's throw from the city state itself. The location is also great for bakeries, with plenty of different options to choose from. Plus, there are some good bus connections, too.
The apartment itself is clean and stylish, with warm and welcoming interiors. It has a fully-equipped kitchen, one bedroom, one bathroom and modern, minimalist aesthetic throughout with vintage touches.
Romantic Traditional Style Home
LOCATION – Centro Storico
SLEEPS – 4
SUPERHOST – Yes
Feeling like a home away from home, this has got to be one of the best Airbnbs in Rome for its interior design alone. The style is decidedly rustic, with things like exposed beams, vintage furniture and timeworn tiled floors. It's the sort of place that will really steal your heart!
Perfect for a weekend getaway in the city, this character-filled Airbnb can sleep up to four guests, with one bedroom and one bathroom. There's also a spacious living area and fully equipped kitchen, and views that look out across the city.
Location-wise, it's hard to beat. It's situated a few blocks from the River Tiber, a stone's throw from the Campo de' Fiori. In the morning, you'll wake up to the smells of croissants baking from one of Rome's oldest bakeries which is pretty amazing.
Bright Modern Flat
LOCATION – Monti
SLEEPS – 3
SUPERHOST – Yes
Another top Airbnb in Rome that's situated in an historic building, this apartment has been lovingly updated to combine the ancient charm of its period features with modern, functional design. Think exposed brick walls alongside white tiled floors, a bright modern bathroom, and contemporary furnishings throughout. There's enough space for three guests to sleep in this apartment, with two beds and one bathroom.
In terms of location, you'll find this place nestled in the central district of Monti. It's one of the coolest areas in Rome, and is perfect for exploring everything the city has to offer – a great option for first-time visitors to the Italian capital.
Cozy Suite Overlooking the Pantheon
LOCATION – Prati
SLEEPS – 3
SUPERHOST – Yes
Located between the areas of Pigna and Colonna, this Airbnb is situated in a quiet backstreet but still is just seconds away from some of Rome's top sights, including the Pantheon, which is just a few minutes' walk away. There are shops, numerous restaurants and bars close by, too.
Inside the apartment is bright and charming, with wooden floors, white-washed walls and accents of peach – an inviting mix of modern and traditional.
For incredible views of the Pantheon and much more, this is the place for you! You will be close to all the attractions of the historic center, including the famous Café San Eustachio, Piazza Navona and Campo de Fiori. Decorated in classic style and neutral colors, the only downside of this apartment is that the kitchen is quite small. But why bother, when you have all the best restaurants in town nearby?
LOCATION – Trastevere
SLEEPS – 3
SUPERHOST – Yes
If you're looking for somewhere special to stay in the Eternal City, look no further than this place – it's easily one of the coolest Airbnbs in Rome. Packed throughout with super stylish interiors and furnishings, it's situated on the first floor of a classic Roman apartment building. As it's been recently renovated, all the amenities are up-to-date.
But one of the best things about this place is its incredible rooftop terrace, complete with views out across the city. This place is actually situated very close to the Vatican, in the boho neighborhood of Trastevere.
LOCATION – Trastevere
SLEEPS – 6
SUPERHOST – Yes
Right above Piazza di Santa Maria in Trastevere, this is the place to stay if you want to be at the center of the scene and have easy access to all the best restaurants and bars in Trastevere. Enjoy breakfast with a view and prepare your morning coffee while Trastevere still wakes up!
LOCATION – Trastevere
SLEEPS – 8
SUPERHOST – Yes
Close to Santa Cecilia in Trastevere church, this apartment is ideal if you want to stay in Trastevere but away from the chaos of the nightlife in this part of the city. It's comfortable enough for eight guests; beautifully furnished and with a nice kitchen perfect to prepare a family meal. There is a balcony to enjoy an evening drink or a morning cup of coffee, too.
Fashionable Vintage Style Apartment
LOCATION – Esquilino
SLEEPS – 6
SUPERHOST – Yes
Situated in an historic apartment building, this cool Airbnb in Rome has been styled out with Italian furnishings dating back to the 1960s. As a result, it's filled with mid-century modern marvels, from the kitchen and dining area to the lounge and bedroom.
With large windows and white-washed walls, natural sunlight streams through and makes it feel bright and airy. It's a great option for a group of friends or a family since there's enough room to sleep up to six guests. It's located in the beautiful neighborhood of Esquilino.
Further Readings
Make sure to read my other posts:
Pin It For Later!